At the IQC, we seek to serve and strengthen Oklahoma's towns and cities while educating the next generation of Oklahoma's leaders. We collaborate with faculty and students from The University of Oklahoma, as well as cutting-edge practitioners from around the world, to enhance our understanding of the built environment's influence on quality of life. Through the IQC's engagements with communities and civic leaders, our OU team helps the citizens of Oklahoma reshape their towns and cities in ways that improve our state's social ties, environment, and economy.
Learn More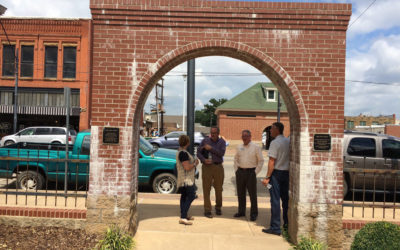 OU Institute for Quality Communities (IQC) Established in 2008, the University of Oklahoma Institute for Quality Communities (IQC) offers conceptual design and planning assistance from the OU College of Architecture. This page provides an overview of how...
Quality Places.
By the end of the 20th century, most towns and cities throughout the country – and certainly throughout Oklahoma – were struggling to deliver environments that fostered the quality of life that previous generations took for granted: vibrant main streets; public spaces where neighbors interacted daily; and safe, inviting open spaces where citizens of all ages gathered. We work with civic leaders to help citizens shape desirable places that define quality communities.
Increasing Community.
OU President David Boren expressed in his book A Letter to America, "Every decision should be made with the goal of increasing community." We believe that great places are at the heart of great communities. The built environment strongly influences our social ties, how attached we feel to our communities, and our level of civic engagement. We help Oklahoma towns and cities reshape public spaces into environments that help forge community. In addition, the very act of reshaping our public spaces can galvanize community ties and spur further positive impacts.
Want to get involved with IQC?
I'm a potential community partner in Oklahoma.
Conferences & Events
IQC hosts the biennial Placemaking Conference to share best practices and ideas, and the video lectures are always available. From time to time, additional workshops, lectures, and training events are available. Follow IQC on Twitter or Facebook for updates.
Assistance Projects
Community assistance projects are a collaborative effort between IQC and representatives from communities in Oklahoma. You can view reports from past assistance projects. Community partners are typically governments, non-profits, and community groups. A number of assistance projects are selected each year based on their fit with current curriculum, student learning objectives, and timelines.
There are two proposal windows for assistance projects each year, along with two proposal workshops.
For Projects in July – December 2018
Proposal Window Open: December 1, 2017
Proposal Workshop: TBD
Proposal Deadline: February 1, 2018
Notification: March 1, 2018
For Projects in February – June 2019
Proposal Window Open: July 1, 2018
Proposal Workshop: TBD
Proposal Deadline: September 1, 2018
Notification: October 1, 2018
Assistance Project Proposals
Proposal instructions will be posted during proposal windows.
I'm a student at the University of Oklahoma.
Graduate Assistantships
Graduate assistants serve as project associates and assist with daily operations of the IQC. A limited number of graduate assistantships are available through referral by College of Architecture program directors or graduate liaisons. At this time, there are no openings. Please check back in the Spring.
Environmental Design Courses
IQC staff members serve as the core faculty of the Bachelor of Science Environmental Design program. Students in the program's four core courses work with IQC staff on outreach projects in communities as part of the curriculum. The courses are available as electives to students with junior standing:
EnD 3893: Introduction to Urban Development Theory & Practice
EnD 4893: Historic Preservation Planning
EnD 3993: Environmental Design Practicum
EnD 4993: Environmental Design Capstone