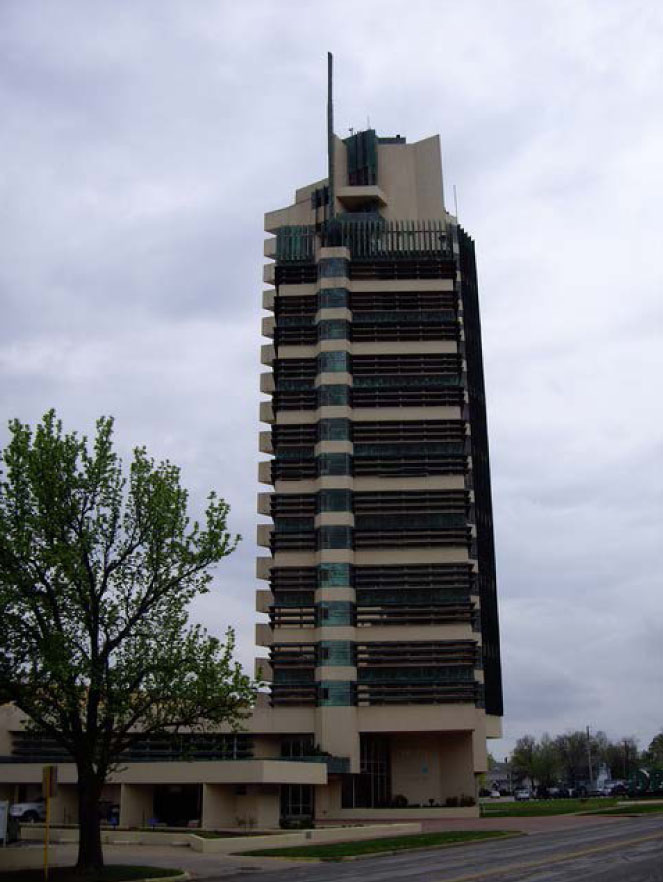 Frank Lloyd Wright's Price Tower in Downtown Bartlesville
Bartlesville:
It is a diverse city with a rich history. Bartlesville is nestled against the beautiful Osage Hills in Northeast Oklahoma and built on the history of the American West. It was founded along the banks of the Caney River as a small mill operation and general store. Today, it is considered one of the most cosmopolitan cities in Oklahoma with exceptional museums, outstanding architecture and diverse cultural events. It is the home of Price Tower, the only skyscraper designed by the famous architect, Frank Lloyd Wright. Bartlesville is also known for its accomplishments in the business world. The city served as home to one of the world's largest oil companies, Phillips Petroleum Co., founded by Bartlesville oil man Frank Phillips.
Demographics:
Population – 36,000 (2010 census)
Racial Makeup – (2010 census)
White – 79%
Black /African American – 3%
American Indian – 9%
Some other race – 9%
Hispanic Origin – 6%
Downtown Revitalization:
In 2004, the city adopted a master plan for revitalizing the downtown district. Prior to the formation of the downtown mission, one could travel through downtown after dark and not see any action at all. Local businesses were shuttering up because of the lack of people shopping. Downtown Bartlesville is experiencing a growth mode. Property values continue to increase with the continued emphasis on redeveloping the existing stock of commercial buildings and residential homes. There are currently around 300 businesses and approximately 125 residential units in downtown Bartlesville. It has become a unique destination for exceptional arts, culture, entertainment, diverse dining experiences, distinctive
retail shops and inviting work and living spaces that integrate historic architecture with a modern corporate environment. So, how has Bartlesville been able to accomplish this over the last decade? It was through the development of a plan that established a blueprint for improving community livability and strengthening Downtown to become a regional destination for living, working, dining and entertainment.