Urban renewal policies of the mid-20th Century were not limited to major cities. Regional cities and small towns also implemented urban renewal programs. This post shows five cities of under 100,000 in population that built central shopping malls as part of Urban Renewal programs.
Through much of the mid-20th Century, many cities and towns were facing challenges as populations moved away from central neighborhoods. Many cities began ambitious programs to remake central cities to accommodate the evolving preferences of the time. These projects, known as Urban Renewal projects, usually involved the demolition of older neighborhoods in favor of buildings and streets that could accommodate a lifestyle based on the private automobile.
City planners targeted areas of town that they perceived to be blighted, and obtained property through eminent domain to build new highways, parking lots, public housing, public parks or civic centers, or new shopping areas. Not all of these projects were a complete success. Urban Renewal has negative legacies: Projects around the nation often targeted minority and low-income communities, especially African American neighborhoods. Projects also often targeted areas of small, local businesses. In these cases, tight-knit communities were often displaced and their economic security damaged.
Historic Map Data: United States Geological Service
Modern Map Data: Google, DigitalGlobe, Landsat / Copernicus
This post uses interactive graphics. Use the sliding bar at the center of the images to reveal changes in the example cities over time.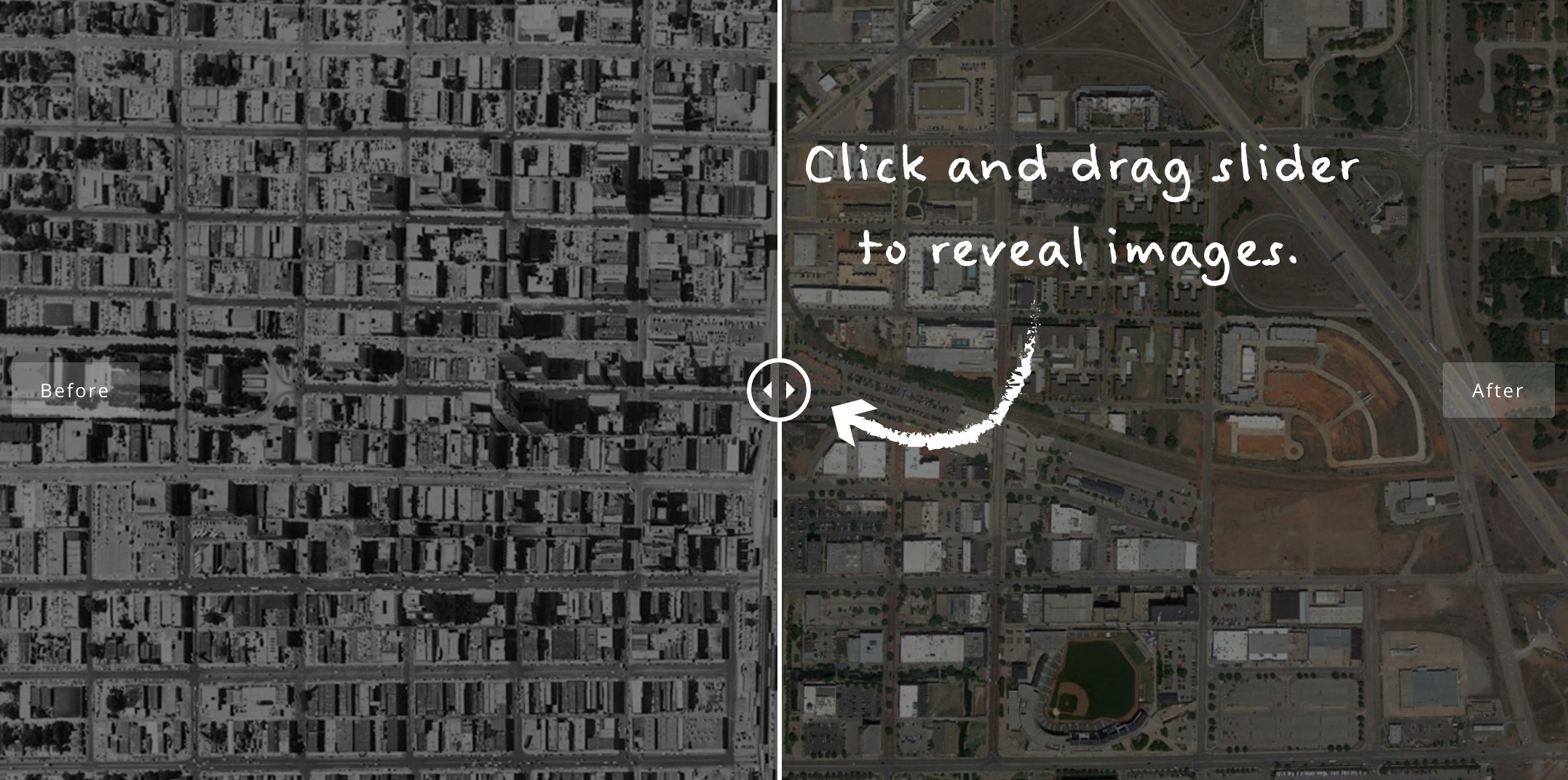 Muskogee, Oklahoma
1960 Population: 38,000
2010 Population: 38,500
Muskogee's urban renewal program and other changes over time have resulted in a drastically different environment between the 1960s and today. Blocks of commercial buildings were removed for new parking areas or civic facilities. Many homes and apartment buildings were also cleared, resulting in a loss of population in the area. A historically African American neighborhood and business district was largely cleared and is now the site of the Arrowhead Mall. These changes are visible from these satellite views.
Lawton, Oklahoma
1960 Population: 61,700
2010 Population: 96,900
Lawton makes one of the most dramatic examples of urban renewal experimentation. Lawton's Central Mall took the place of 12 square blocks of the downtown area. Take a look at these images comparing the exact same area of downtown Lawton in 1970 and 1987.
Manhattan, Kansas
1960 Population: 23,000
2010 Population: 52,200
In Manhattan, Kansas, the Manhattan Town Center mall was constructed in the 1980s. These images compare Manhattan's downtown in 1974 and 2014.
Mason City, Iowa
1960 Population: 30,600
2010 Population: 28,000
Mason City, Iowa also created an indoor shopping mall after demolishing many blocks of downtown. These two views compare the city in 1952 to today.
Muskegon, Michigan
1960 Population: 46,500
2010 Population: 38,000
Muskegon, Michigan began an urban renewal program by turning many of the neighborhoods surrounding its core main street, Western Avenue, into parking lots to serve the commercial district. This change is shown below in images from 1953 and 1968.
Muskegon furthered its urban renewal ambitions by replacing Western Avenue with a suburban-style shopping mall, as shown in the comparison below from 1968 to 2002. Some buildings were incorporated into the mall.
Today, the Muskegon Mall has been demolished. The city is now reversing urban renewal by attempting to restore the historic street grid and create new development sites, as shown in this comparison between 2002 and 2013.