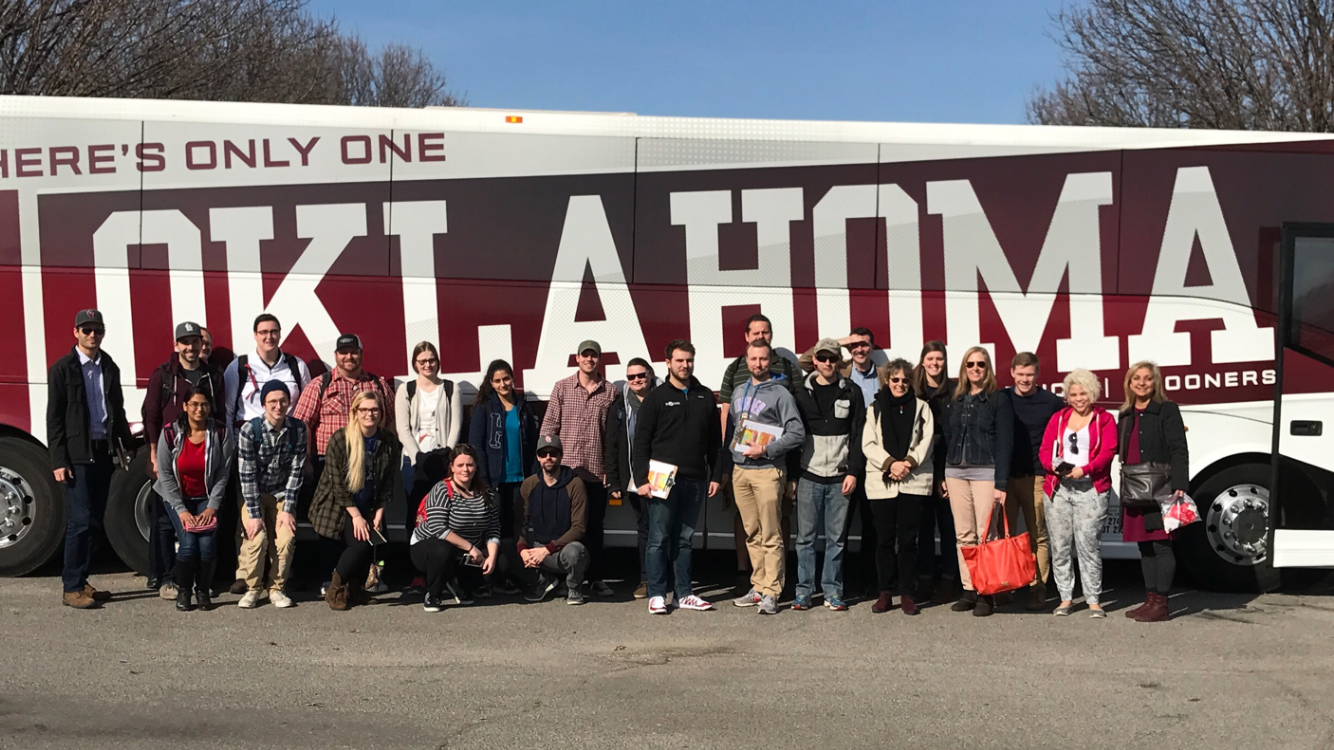 On Wednesday, the focus was getting to know the landscape, programs, and people of downtown Muskogee and the Arrowhead Mall. Teams participated in a scavenger hunt, where they found representatives of Muskogee stationed around downtown to provide them with information.
At the trailhead for the Centennial Trail, Doug Walton of the Muskogee Health Department described ongoing active transportation and healthy food initiatives in Muskogee, such as the Farmers Market.
Inside the brand new Muskogee Little Theater, executive director Coni Wetz provided a tour of this state-of-the-art performing arts facility.
At a retail business called Pinon Creek Trading Company, proprietor Sue Vanderford discussed the Katy District area and plans for residential development in the upper floors of the building.
In the City of Muskogee Foundation, board member Johni Wardwell explained how the sale of a hospital property in 2007 led to the creation of a large fund which now provides grants to support community projects and initiatives.
At City Hall, officer Brandon Garner showed some teams how the city jail is built inside a historic auditorium. Planning director Gary Garvin, city manager Mike Miller, and economic development coordinator Darla Bennett provided a municipal perspective on downtown and connected the teams with resources.
At the Greater Muskogee Area Chamber of Commerce, president and CEO DJ Thompson explained the role of the Chamber.
In the abandoned historic building Muskogee Hotel, downtown development consultant Ron Drake showed the teams the challenges of a building that has been vacant for decades and needs major repairs for renovation.
Teams also got to find lunch at local eateries like Da' Sawyers, Club Lunch, and Max's Garage.
At the Arrowhead Mall, manager Frank Cooper presented an overview of the mall's recent initiatives and priorities. Jennifer Van Volkinburg of McKinley Associates described the current status of the mall's receivership process and how her company hopes to position the mall in the marketplace. Jed Ballew of KKT Architects in Tulsa described another case study project, the Eastgate Metroplex, which is a former mall rehabilitated into an office center.
Teams will now have several weeks to form their concepts for this competition. Students will present their projects during a public jury on March 1 in Muskogee.