Downtown Muskogee Landscape of Hope
IQC and the OU-Tulsa Urban Design Studio collaborated with the City of Muskogee and partners in the community to provide a master plan vision for downtown.
Muskogee, Oklahoma | Fall 2016 – Spring 2017
View the Final Report Below
Downtown Muskogee is an important place at the heart of a region of more than 70,000 people. In recent years, a number of efforts have brought new life and activity to downtown Muskogee. A 2010 Oklahoma Main Street resource team visit led to ideas for wayfinding and the Depot District that have made substantial progress. Engagement efforts by the group Action in Muskogee created momentum for a number of projects citywide. An impressive network of bicycle trails and lanes is emerging, and a farmers market improves healthy options downtown. The Muskogee Little Theater now brings cultural life downtown. New restaurants and retail shops have opened in renovated historic buildings downtown. Gateway markers and wayfinding signs now mark the important locations of downtown.
The 2012 Comprehensive Plan for the City of Muskogee recommended that the City work cooperatively with downtown stakeholders to create a Downtown Master Plan. In summer 2016, City of Muskogee officials began pursuing such an effort. After contacting the University of Oklahoma College of Architecture's Urban Design Studio and Institute for Quality Communities, the City of Muskogee guided a master planning effort spanning nearly a year with hundreds of contributors. This document is the result of that collaboration, titled Downtown Muskogee: A Landscape of Hope.
Feedback and insight from Muskogee residents has been incredibly important to this process and document. A stakeholder committee formed in August is made up of downtown leaders and public officials. The committee has held monthly public meetings to guide the OU College of Architecture design team. In addition, the design team visited Muskogee events like the Farmers Market to talk with residents, and a public meeting in November attracted more than 100 participants to provide input to this plan. An OU researcher on the concept of hope conducted a survey of nearly 400 residents to help the team structure a plan document that follows the language of hope.
Throughout this process, five key priorities emerged, and the design team focused on recommendations presented in this document in chapters based on the following topics:
Increase activity downtown to create a more lively and vibrant atmosphere. This chapter focuses on attracting key groups of people to downtown, managing parking downtown, and implementing a grant program to achieve goals.
Make better connections to enable walking and biking between destinations downtown. This chapter focuses on prioritizing streets for bicycle and pedestrian improvements, including a road diet on Main Street, a new plaza configuration at Third and Okmulgee, conceptual cross-sections for Broadway Street, and proposed improvements along Elgin Street.
Save historic buildings to preserve Muskogee's heritage and legacy. This chapter presents an overview of challenges, potentials, and successes of historic preservation in Muskogee, and identifies high-opportunity buildings and places that should be preserved.
Introduce green spaces that are active and well utilized to provide public space and greenery downtown. This chapter includes concepts for a new programmed green space on Broadway, a planned park for the Depot District, and ideas to reduce paved areas downtown.
Revitalize Arrowhead Mall to complement the experience of spending a day downtown. This chapter presents a range of conceptual developments for the Arrowhead Mall site created by OU design students, and reveals some best practices to keep in mind as the mall's future evolves.
There are many possibilities on the horizon as downtown Muskogee continues to evolve. Citizens and stakeholders should continue to stay engaged as the City of Muskogee works with partner organizations to refine and implement the concepts in this plan. In addition, this plan should be reviewed, revised, or amended over time as required.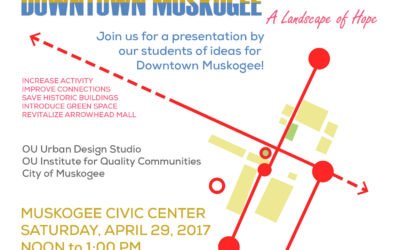 On Saturday, April 29, students from the OU design and planning team presented findings of the study to a public audience. A video of the presentation is below. The full text of the plan document will be available in the coming...
read more