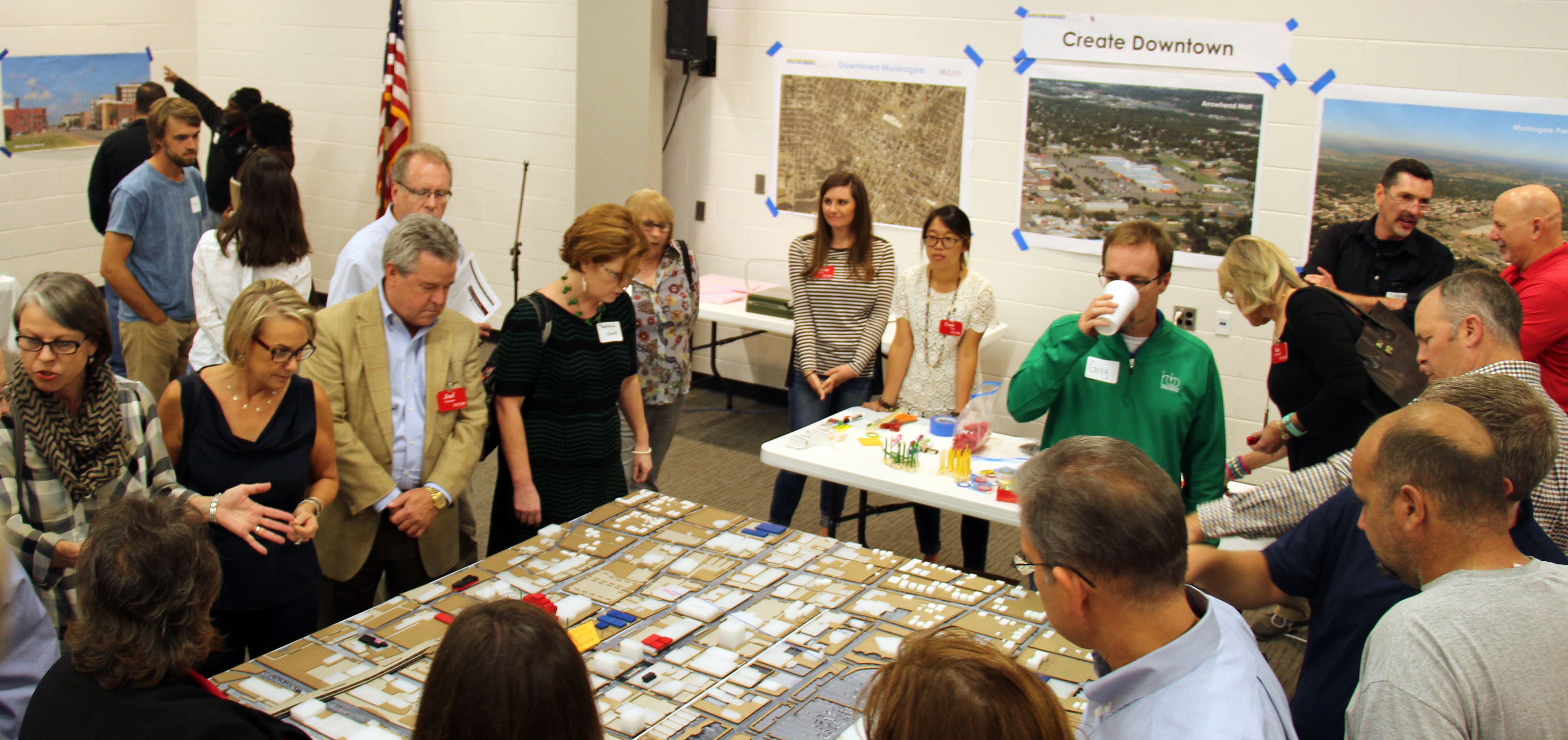 On November 15, we held a Community Hope Workshop to gather feedback and ideas for the future of downtown Muskogee. More than 100 Muskogee residents from all corners of the city showed up at the Martin Luther King Center to help us in this effort. At the center, attendees could interact with a variety of activities to share their input.
The video below shows some scenes from the workshop. Read on to learn about ideas generated.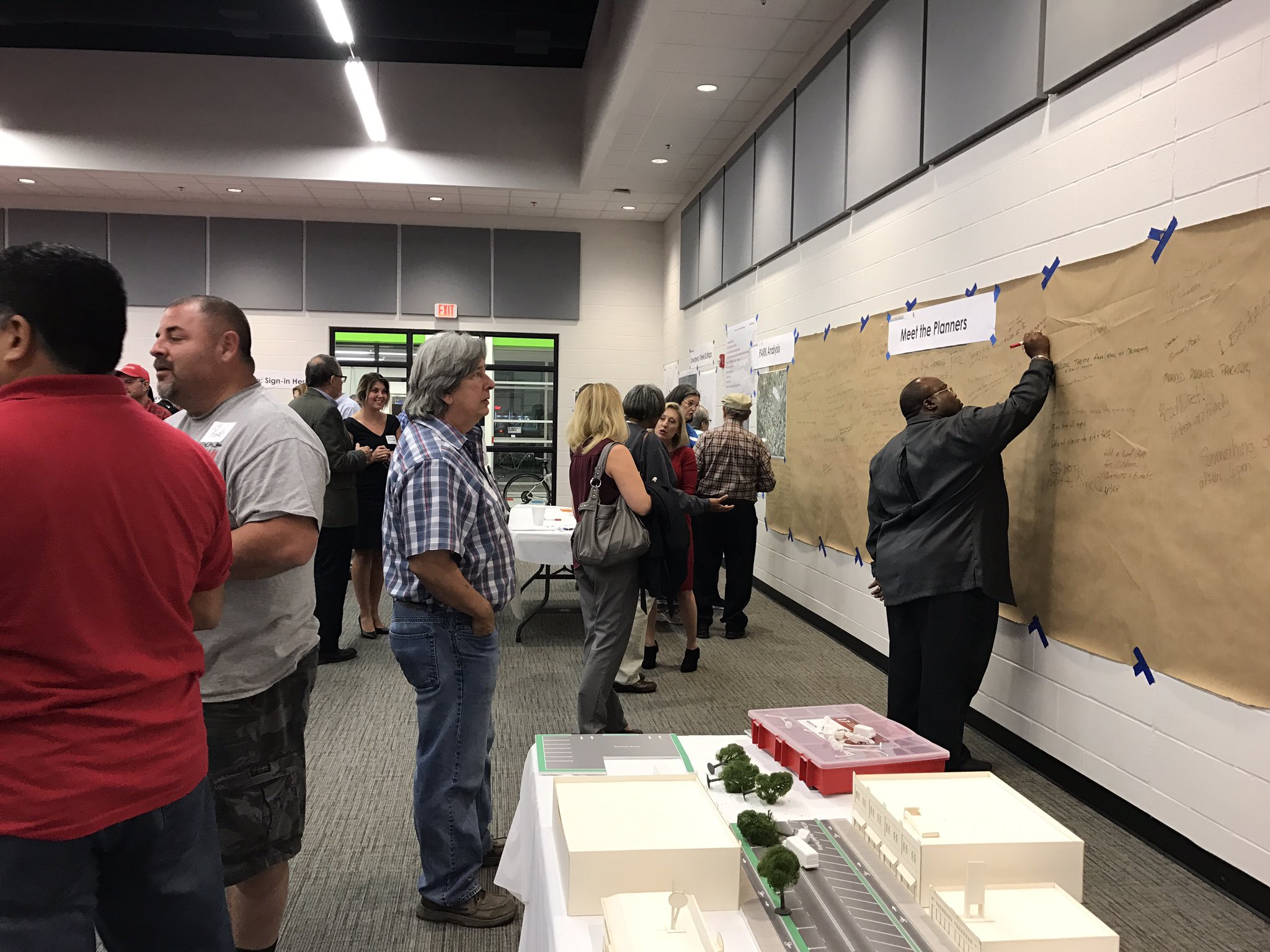 On one wall of the room, a huge sheet of brown paper invited residents of Muskogee to write down their hopes for downtown. At the end of the night, there were more than 115 comments about the need for a wide-range of activities and events to make downtown more lively and livable, 55 comments about inadequate infrastucture and/or poor connectivity, and comments about the need for green space. Other topics included revitalization of Arrowhead Mall, protection of historic buildings, access to food, and new housing opportunities.
Robi Jones, Urban Design student, shares that several older senior residents of downtown were in favor of more places to go in the evenings and nighttime. One dreamer summed it up by writing that they would like "a downtown district with things for everyone to do in the daytime and nightlife that also provides a safe environment."
During another activity, residents talked with team members about a PARK Analysis: While looking at a map of downtown, participants thought about what to Preserve, Add, Remove, or Keep Out of the area in the future. Rachel Ware, a Landscape Architecture student on the IQC team, noted that many people- especially those living in the downtown area- wanted to see more places offering access to food, including restaurants and food stores or markets. People also wanted additional businesses and programming to draw people downtown in the evenings.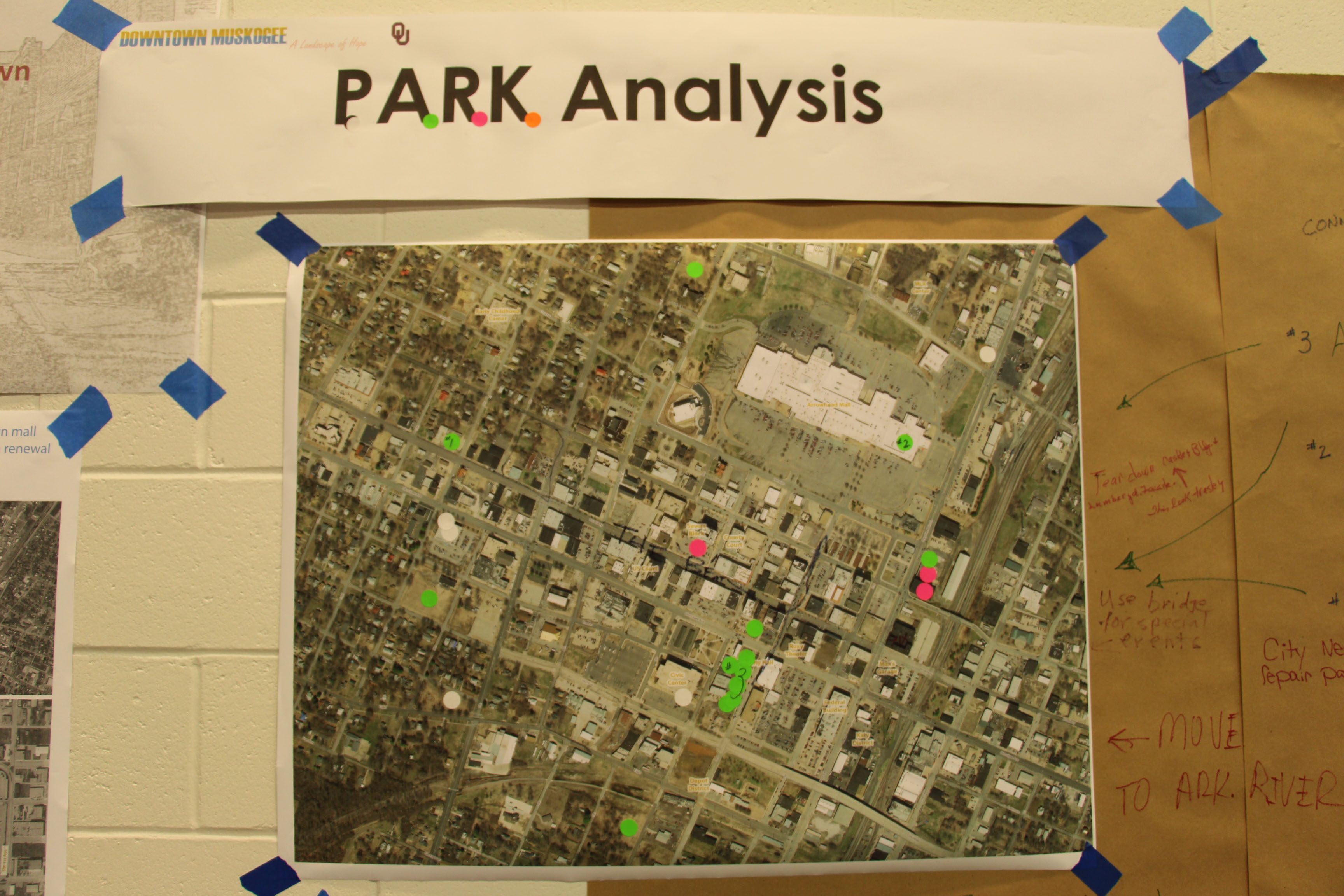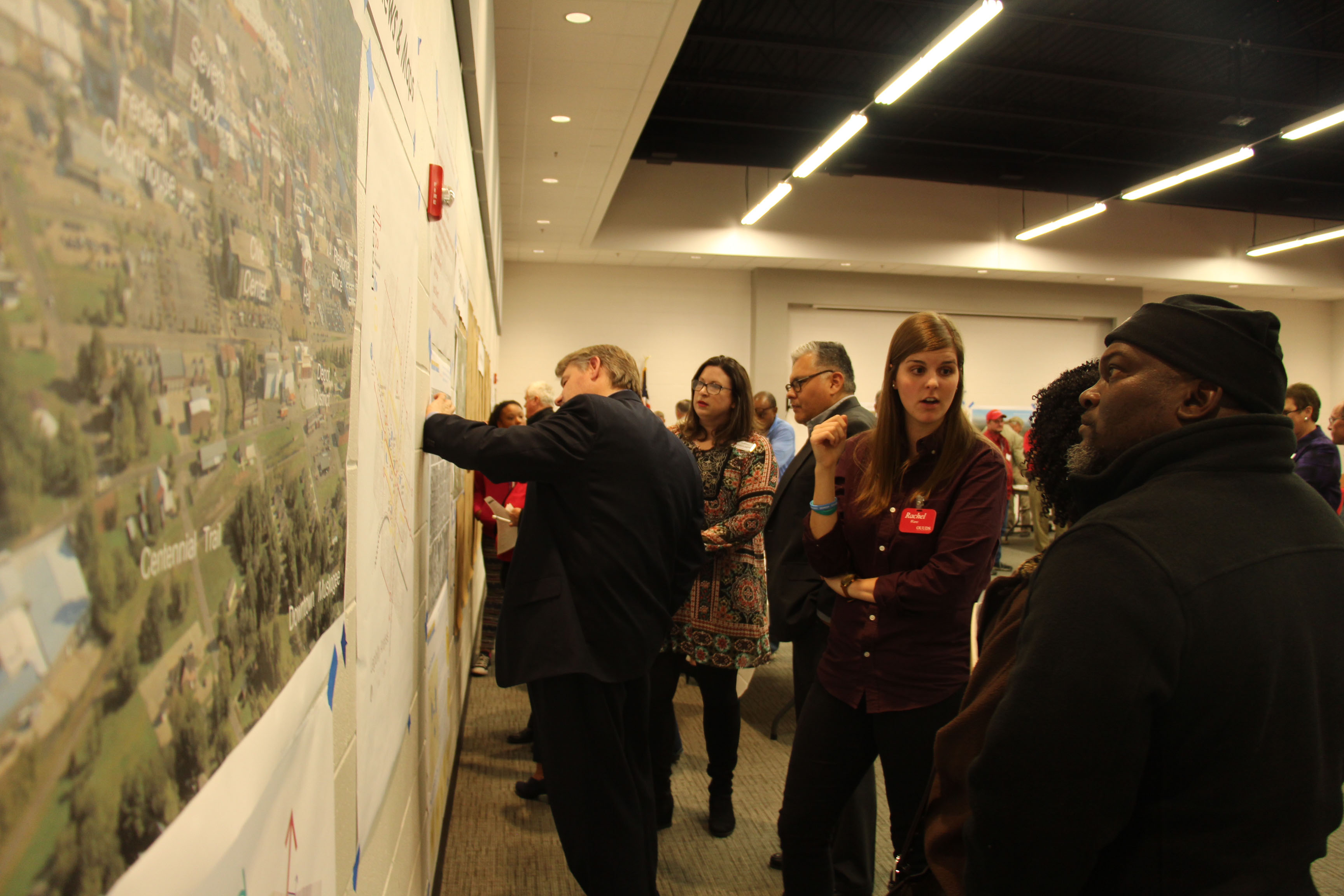 Kyle Clifton, an Urban Design student, and Farshid Motian, an Architecture student, helped residents with an activity that invited them to reimagine the design of important downtown streets like Broadway and Main Street. Farshid noted that many residents were prepared to imagine these streets with fewer lanes and bike lanes.
Kyle recorded the following observations about the activity:
Mid-block crossings were requested along Main Street to help alleviate jaywalking. This is not only a safety issues, but a design problem as well.
A road diet is preferred and virtually every citizen that stopped by the station wanted a bicycle path of some sort. Some opted for a cycle track option, while others liked separate bike paths in each direction. Many indicated that 4th, Broadway, and Main St. would be the best locations for these facilities. Bicyclists that were present stated that they avoid Downtown because of the dangers of riding along the wide lanes. Lane width drives speed and any improvements made to the area would need to consider lane narrowing to help calm the traffic.
Additionally, some participants wanted to see street trees removed, relocated, or replaced with different species. Some participants wanted to see the removal of a center turn lane on Broadway, though some business owners use the central turn lane for delivery truck parking.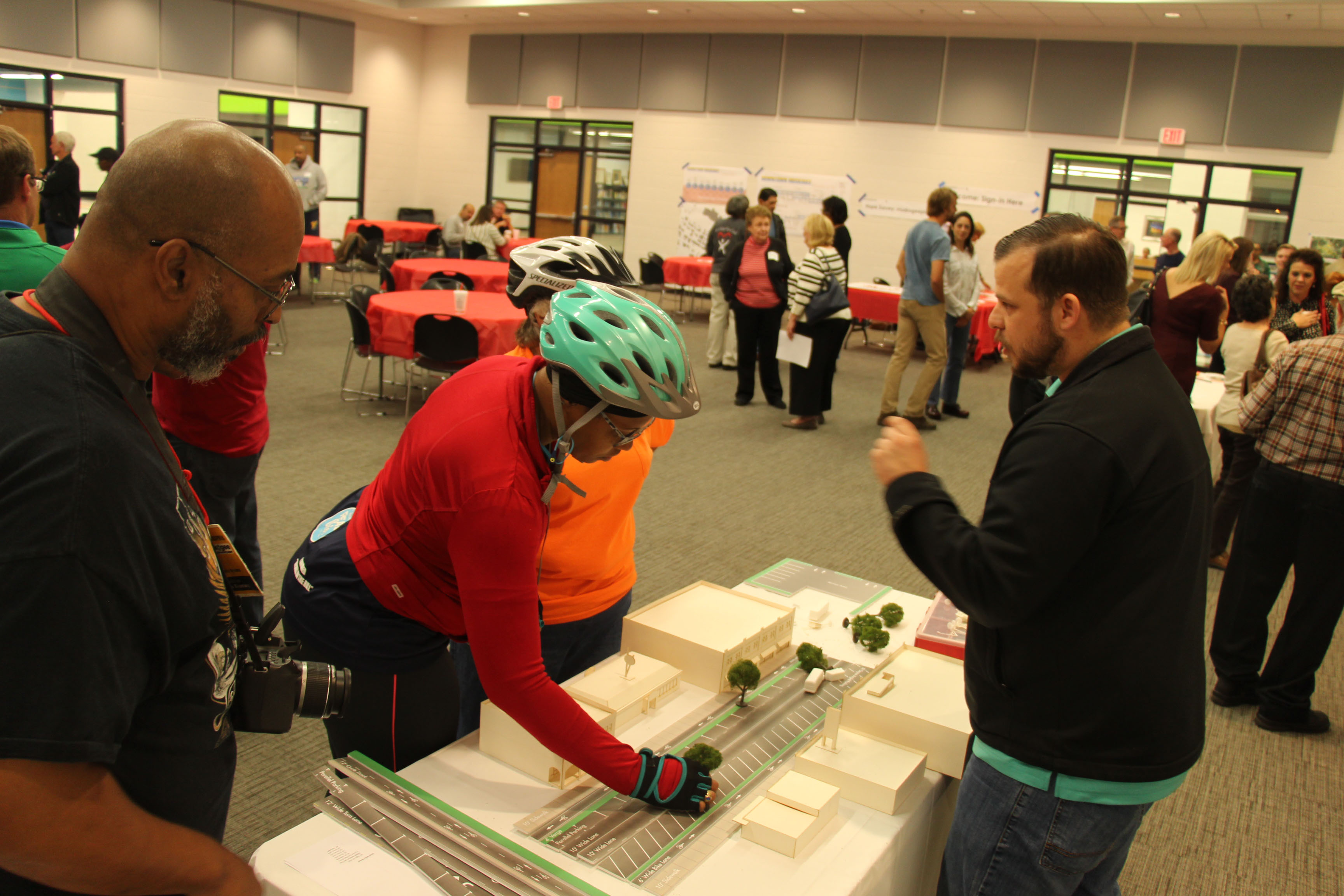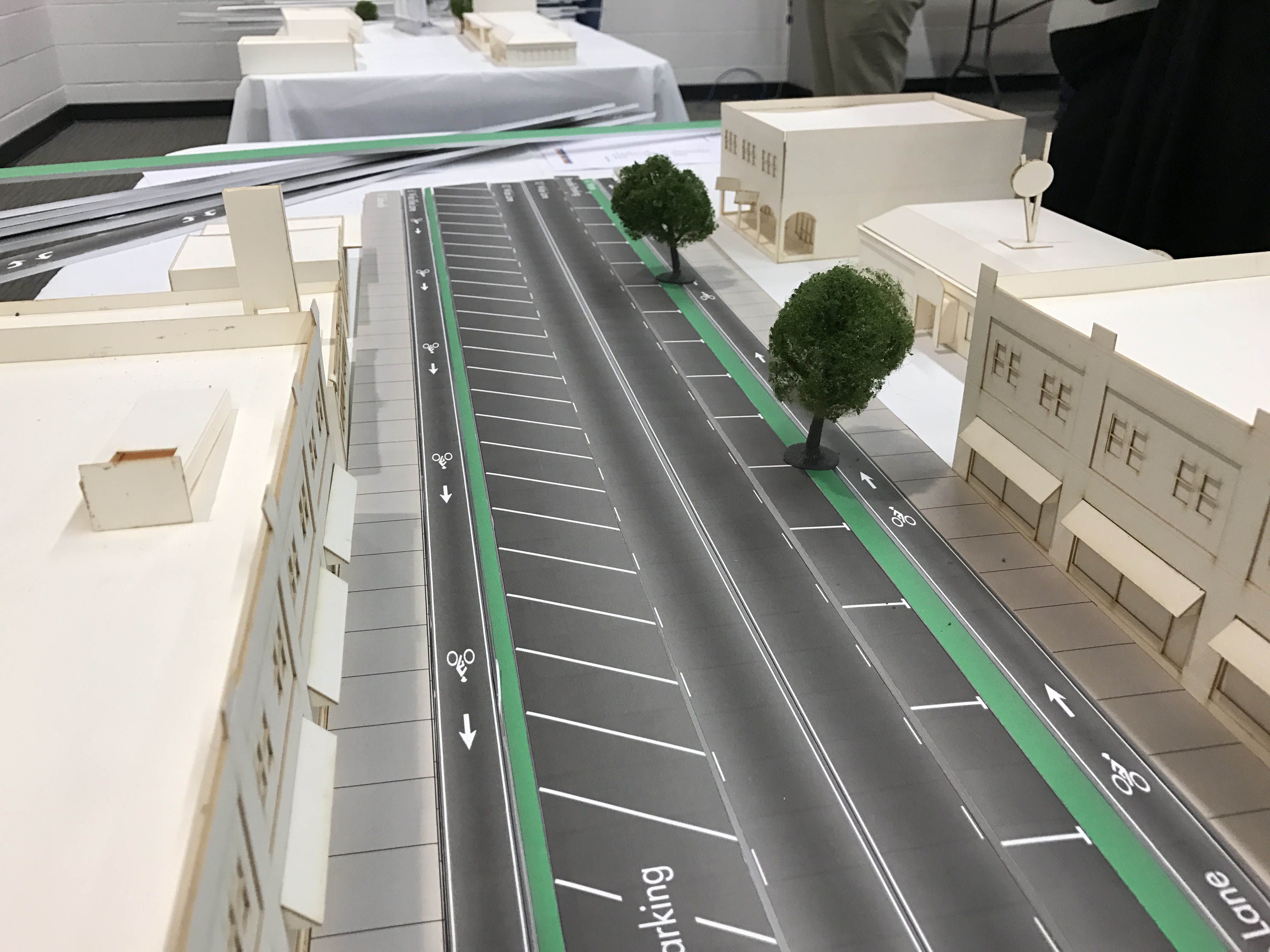 Finally, residents also got to interact with a giant scale model of downtown Muskogee. The model was constructed by Farshid Motian, Yvan Tran, and Brittany Frost, all Architecture students at the University of Oklahoma, and Kyle Clifton, Urban Design Student. Residents could observe their downtown from a new perspective and add new buildings, notes, and street fixtures. This allowed participants to take their hopes and ideas and physically place them somewhere downtown.
Yvan Tran records that the area around the new Little Theater and Civic Center was a popular location for potential developments of restaurants and hotels.
Brittany Frost records that some residents used the model to show relocations: There is an idea for moving the jail out of the downtown area, and moving the post office to a location in the mall.
Rhys Wilson, a Regional & City Planning student on the team, says that the discussion taking place around the 3D model was excellent: "People were adamant about what they would like to see changed, yet were respectful and deliberate in their responses to differing opinions. For the most part, redevelopment plans were reasonable and could be implemented."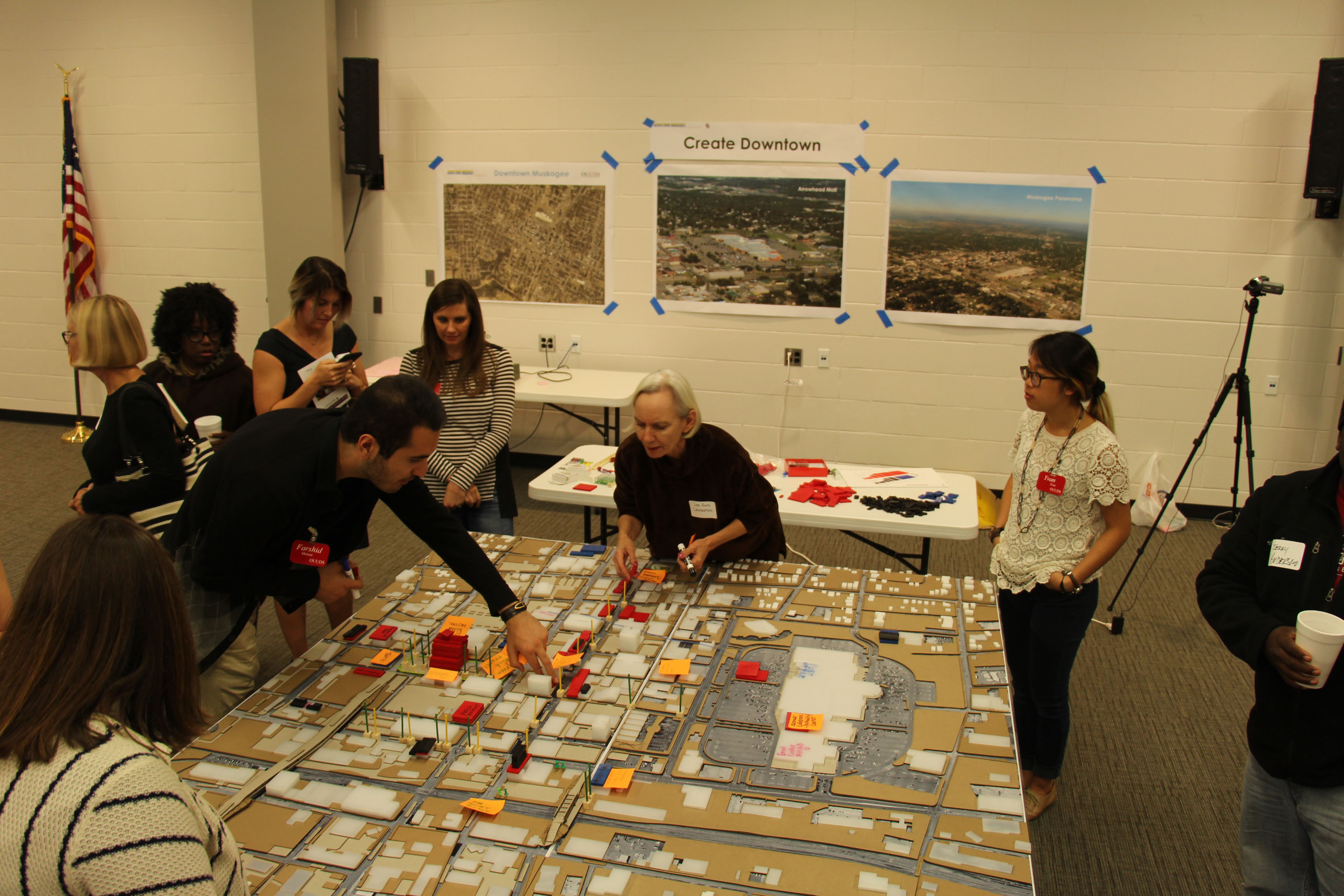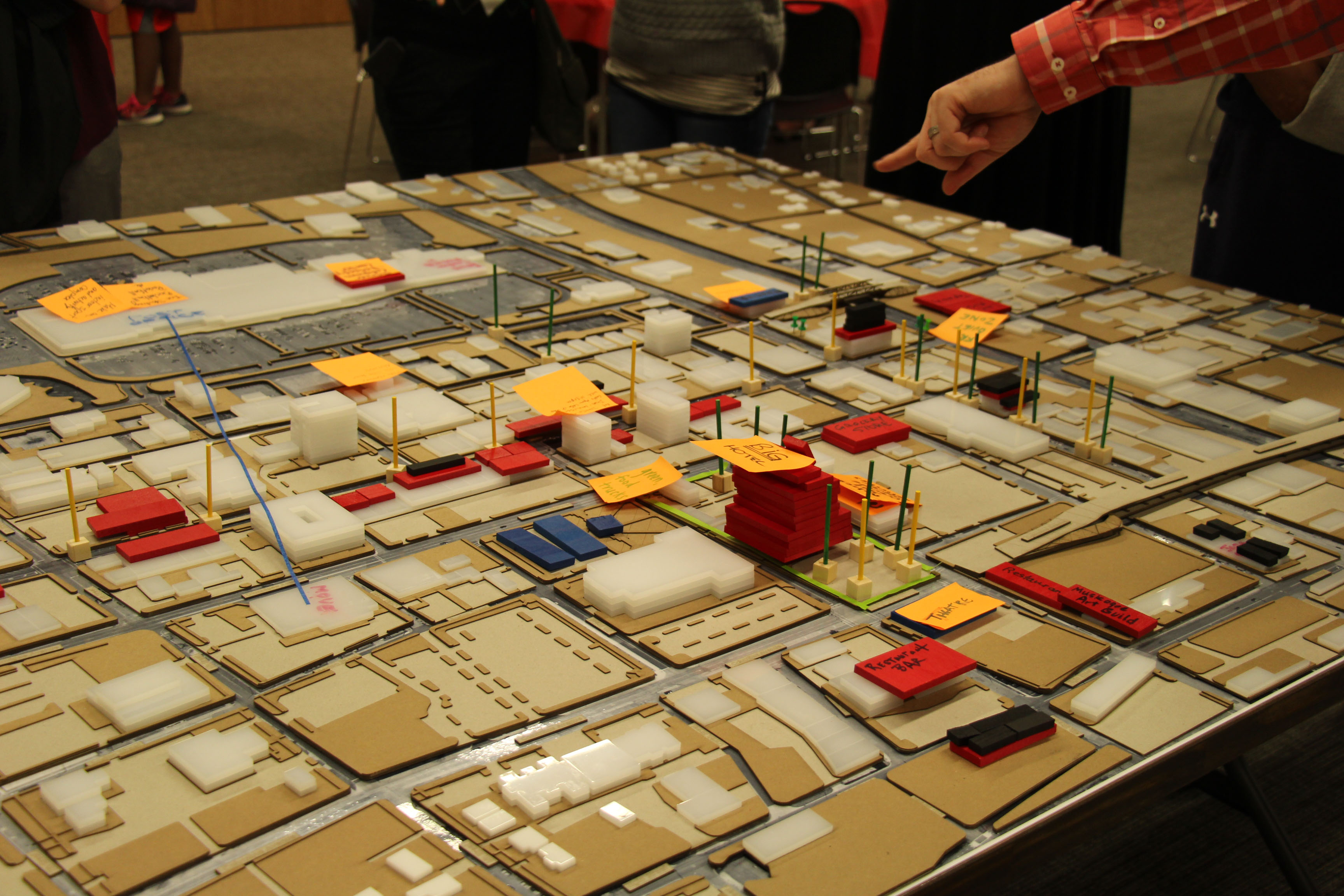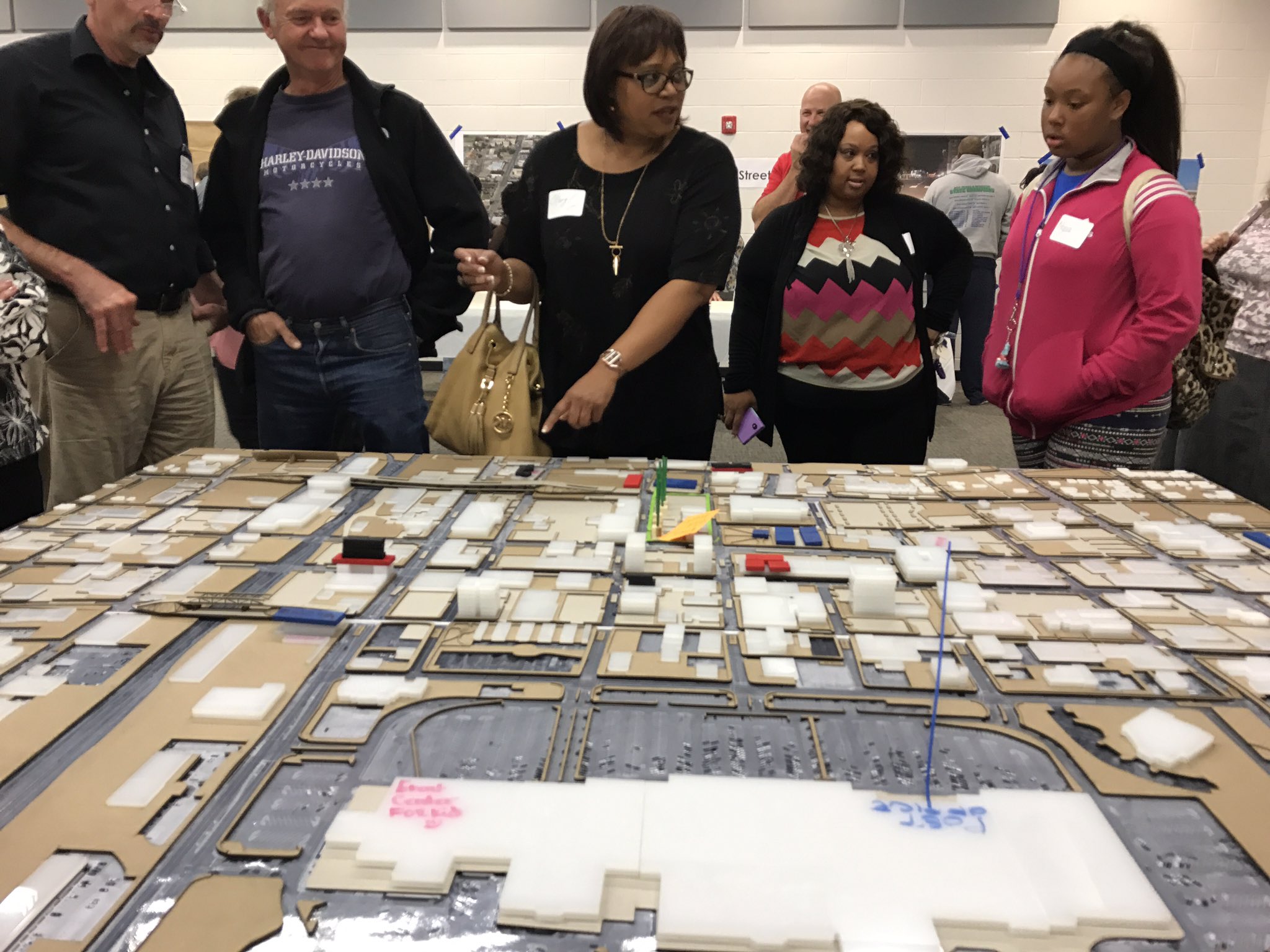 The information gathered at this event will be extremely helpful for our team moving forward.
"After interacting with the citizens of Muskogee," says Brittany Frost, "It is clear that the individuals who showed up to the event were excited about seeing change to their downtown and most had hope. They have put thought into what their downtown should have, and they are ready to see action. I am excited to see what the future holds for this town."